Available from the Badsey Society
The Badsey Society exists to promote the understanding and study of the parish and village of Badsey, including Aldington, and the surrounding area. The people, history, archaeology, folklore, flora, fauna and geology of the area are all possible areas of activity, which may take the form of meetings, walking tours, talks, education and publication.
For more information on the Badsey Society visit their website.


Produced by the Evesham Movie Makers. Cameras: Alison Bambury, Brian Bambury, Graham Corbett, John Lucas and Sheila Lucas. Edited by Brian Bambury. The DVD includes a 25 minute version of the video and a longer version lasting 40 minutes.
Published by the Badsey Flower Show Committee and Evesham Movie Makers Club. 2007.
Price £6
Here is information on how to order.
Badsey Flower Show 2005
This video captures beautifully the events of the 104th Badsey Flower Show in 2005.
It begins with the hard work of erecting the marquee. The church bells are ringing while the judges go around the exhibits. The first visitors arrive, the bar opens and the silver band starts to play. The newly arrived vicar declares the show open. There is an excited rush into the tents to see who has won prizes. Then there is the dog show, the children's entertainer, the dancing girls, the stalls, and much more. Children race against the backdrop of the Cotswold Hills. The cups are presented and the raffle is drawn. Finally it is time to pack up and carry the exhibits home. This is the pure spirit of a village flower show.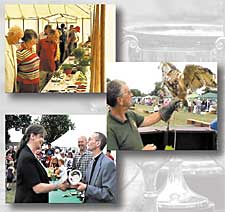 Stills from the video
The Badsey Flower Show website.
The Evesham Movie Makers Club website.