Badsey Society Publications
The Badsey Society exists to promote the understanding and study of the parish and village of Badsey, including Aldington, and the surrounding area. The people, history, archaeology, folklore, flora, fauna and geology of the area are all possible areas of activity, which may take the form of meetings, walking tours, talks, education and publication.
For more information on the Badsey Society visit their website.


Made in the UK. 100% cotton. Colourfast.
Published by the Badsey Society, 2007.

Price £5
Here is information on how to order.
Badsey Society
Tea Towel
The first large scale map of Aldington was published more than two hundred years ago in 1807. Badsey followed in 1812. Our tea towel shows the maps together with artist Ian Gibsonís impressions of how the villages would have looked at that time.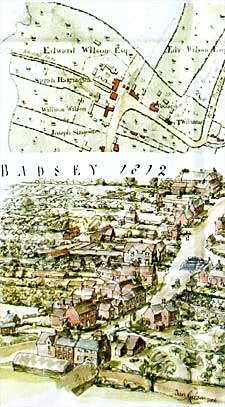 Detail
The tea towel and the Enclosure Map Project.