Available from the Badsey Society
The Badsey Society exists to promote the understanding and study of the parish and village of Badsey, including Aldington, and the surrounding area. The people, history, archaeology, folklore, flora, fauna and geology of the area are all possible areas of activity, which may take the form of meetings, walking tours, talks, education and publication.
For more information on the Badsey Society visit their website.


Written by Arthur H Savory.
Originally published by Basil Blackwell, Oxford in 1920.
This edition published by BiblioBazaar, 2006. Paperback 283 pages. ISBN10: 1426468784. ISBN13: 9781426468780.

Price £8
Here is information on how to order.
Grain and Chaff from an English Manor
"In recalling my earliest impressions of the village of Aldington, near Evesham, Worcestershire, the first picture that presents itself is of two chestnut-trees in full bloom in front of the Manor House which became my home, and their welcome was so gracious on that sunny May morning that it inclined me to take a hopeful view of the inspection of the house and land which was the object of my visit..."
These are the opening words of Savory's classic account of English village life at the end of the nineteenth century.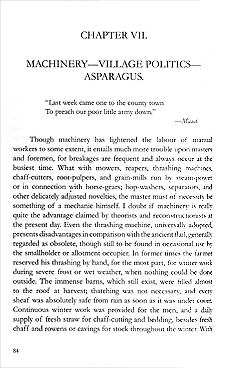 Page example
Here is a photograph of Arthur Savory with his workers.