Available from the Badsey Society
The Badsey Society exists to promote the understanding and study of the parish and village of Badsey, including Aldington, and the surrounding area. The people, history, archaeology, folklore, flora, fauna and geology of the area are all possible areas of activity, which may take the form of meetings, walking tours, talks, education and publication.
For more information on the Badsey Society visit their website.


Written by Mick Taylor.
34 pages. A4 size slide bound.
Published by the Aldington Residents Association, 2009. Edited by Mike Lovatt.

Price £3
Here is information on how to order.
Mintys Tales:
Recollections of Post War Life in a Worcestershire Hamlet
Mick Taylor has lived in and around Aldington for the last 60 years. His story is often amusing and sometimes sad. Full of interesting detail, this is a poignant record of life in the Vale of Evesham.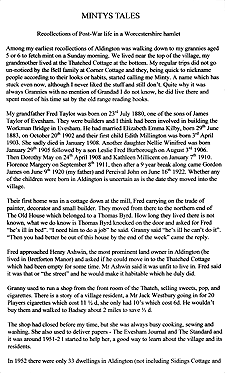 Sample page