Badsey Businesses in the Early Twentieth Century
These advertisements appeared in the Parish Magazine in the early years of the twentieth century. It was a prosperous time for the village with a large growth in population and extensive house building. Kelly's Directory for 1912 shows that by far the commonest business at this time was market gardening.
The Parish Magazine was started in 1898 and sold to subscribers at a penny a month. The first year showed a loss of £2, owing to the cost of printing, so in January 1899, the first advertisement appeared on the back page: Elliott, 59 High Street, Evesham, Chemist. Throughout 1899, Elliott was the only advertiser. In 1899, due to a reduction in printing and revenue from the advertisement, the magazine was able to pay its way and have a small balance in hand towards paying off the previous year's deficit. In January 1900, a second advertisement appeared, inside the back cover: T M Evans, Grocer, Bridge Street, Evesham. For a brief period in 1902, Evans did not advertise, and his slot was replaced by Handel Wheatley for three months. It was not until 1904 that more advertisers started to appear.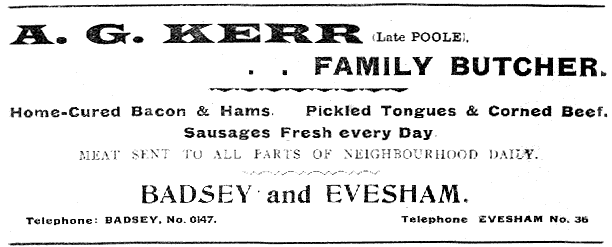 Poole advertised from January 1904 to January 1906. Then A G Kerr advertised from February 1906 to January 1907.
In 1881, John Poole was the Innkeeper at The Royal Oak. He had been born in Hampton about 1851
and was married to Joyce, who had been born in Bretforton about 1846.
Alfred Kerr, born in Birmingham about 1868, was also living there and may have been their son.
In 1891, John and Joyce were still at The Royal Oak; John was described as a butcher as well as an innkeeper.
By 1901, John and Joyce were living at Laburnum Villa; John was now just a butcher, as William Mustoe had taken over The Royal Oak.
John and Joyce had their grandsons, John Poole Kerr and Alfred Poole Kerr, staying with them.


This appeared for every month in 1906.


This appeared every month in 1907.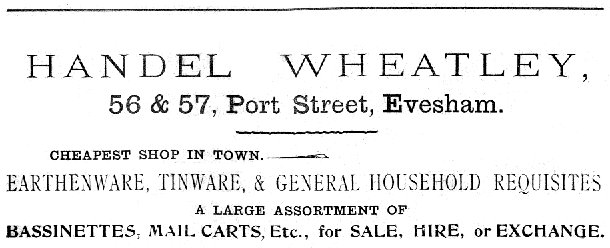 This appeared from January to March 1902. Arthur Handel Wheatley (1861-1937) married Patience Maria White on 15 July 1886 at St Peters Worcester,
In 1903 Arthur took over a shoemaking business from his father Arthur Josiah Wheatley.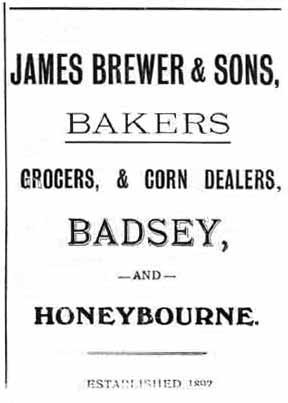 James Brewer - the first advert on the left appeared in January 1908 and he continued to advertised until at least 1919.
The advert on the right appeared between 1914 and 1918.
Brewer gave his name to Brewers Lane in Badsey where he had his bakery and shop.
In 1901 he was living at 1 Chapel Street - his bakery and shop were directly behind his house.


Pethard advertised between February 1907 and December 1908.


J E Cull first advertised in January 1904 and continued until at least 1919.


L G Stribblehill first advertised on October 1914 and continued at least until 1919.



The first Wheatley advert, announcing the arrival of the shop, appeared from January 1902.
He continued to advertise until at least 1919.


The Wheatsheaf acted as an agent for this coal merchant. Adverts ran from January 1909 to December 1913.


Mrs Warner advertised from January 1906 to December 1908.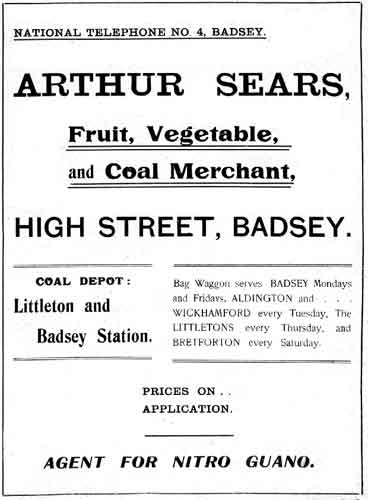 Sears - a full page advert from 1909. He advertised from October 1908 to December 1911.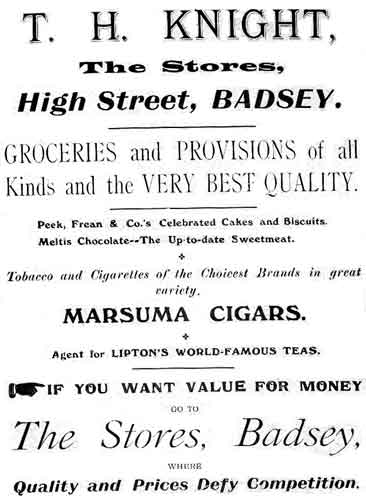 A full page advert for T H Knight at 'The Stores' in 1912. He advertised every month that year.


An early version of this advert appeared between February 1906 and August 1907 with the wording 'Byrd & Sons'.
After a two month gap when they did not advertise, the advert reappeared as John Byrd. It continued to appear until at least 1919.
Byrd & Sons were probably John Walker Byrd (1833-?) and his son John Waldron Byrd who lived at
'The Laurels', Badsey for a short period although the shop was in Evesham. The advert suggest the father died in 1907.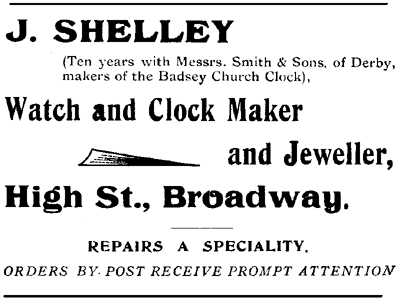 Shelley were makers of the Badsey Church Clock and based nearby in Broadway.
They advertised from March to December 1908.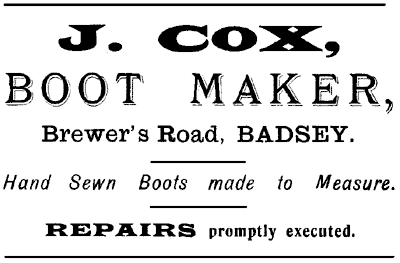 J.Cox boot maker of Brewers Road. This appeared from July to December 1908.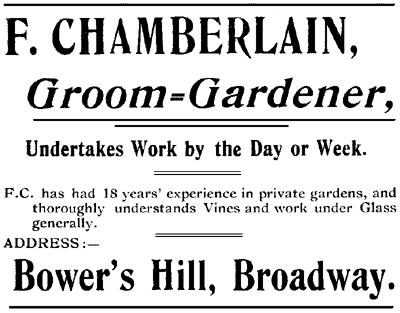 Bowers Hill is a hamlet within the Badsey parish on the Willersey Road. This appeared from March to December 1908.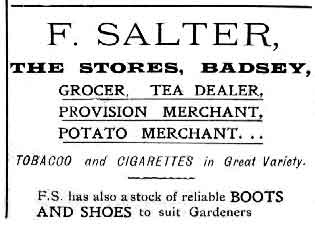 F Salter at 'The Stores' appeared every month in 1913.


Nurse Beesley advertised from December 1905 to September 1906.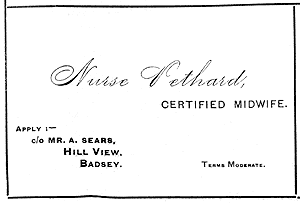 Nurse Pethard from May to December 1911.
See also the Midwife Register for Eliza Stanley who was working at about the same time.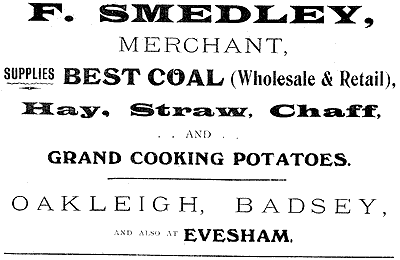 F. Smedley advertised in all the 1912 issues.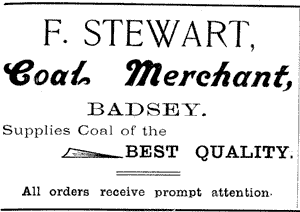 F.Stewart advertised in all the 1911 issues.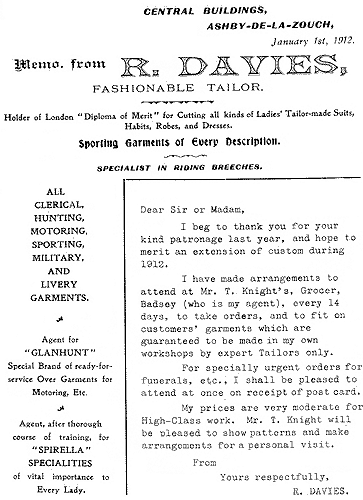 This full page advertisement from July 1911 announced that
Mr T Knight, grocer, was agent for R.Davies, fashionable tailor.
By 1912 this was replaced by a more conventional full page advertisement. It last appeared in December 1912.
Richard Phillips, Maureen Spinks & Will Dallimore
Here are some articles in the Parish Magazines at about the same time.
---
Updated 9 February 2010. Contact email:editor@badsey.net