---
Memories and photographs:
The Amos years (1913 - 1945)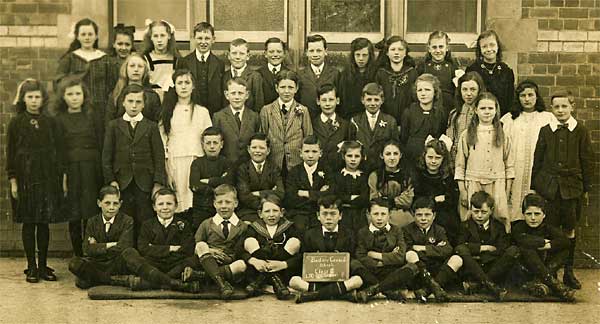 Badsey School Group, 1920. On the blackboard is written 'Badsey Council School. Class 2. L50. 1920'. The photo was lent to us by Lorna Edmunds.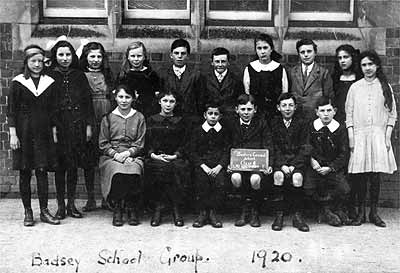 Badsey School Group, 1920. Photograph loaned by Pat Goldstraw. Does anyone know any names?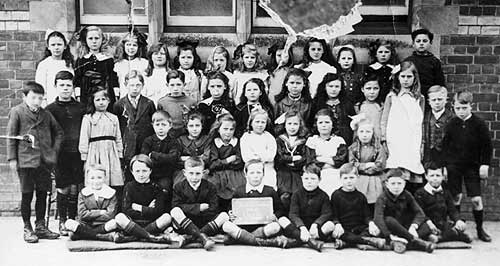 Badsey Council School Class 4 c 1920. Photograph loaned by Peter Stewart. Does anyone know any names?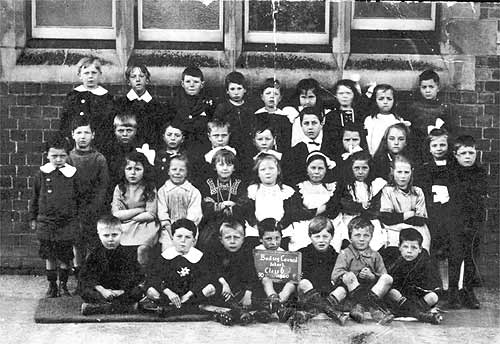 Badsey School Class 6, 1920. Mrs Peggy Hancock of Evesham has loaned this photograph. Where known, she had added the girls' married names in brackets:
Back row, left to right: Doug Pethard, Fred Taylor, ? Chamberlain, ?, ?, Annie Jelfs (Matthews), Dorothy Porter (Merrett), Avis Cull, F Knight
Second row, left to right: Jim Agg, ?, Jack Wheatley, "Buster" Mustoe, L Vincent, G Hall, ?, ?, Connie Perkins (Rouse), Henry Brailsford
Third row, left to right: Hubert George Willis, Sylvia Barnard, Emily Knight (Staite), Mary Jinks, Olive Hartwell (Bennett), Gladys Turner (Cox), Dorothy Pitman (Smith), Clarrie Phipps,
Front row, left to right: E Butcher, Billy Cole, L Field, ?, C Butcher, C Crane, ?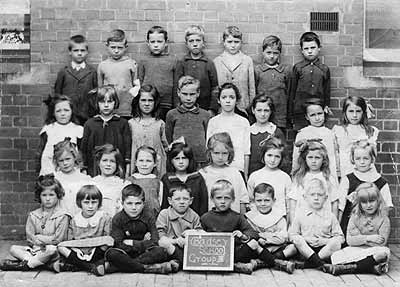 Badsey School, Group IV, c 1921. Photograph loaned by Peter Stewart. The girl with ribbon and black hair, second row from front, fourth from left is Irene Dorothy Stewart (1915-1922).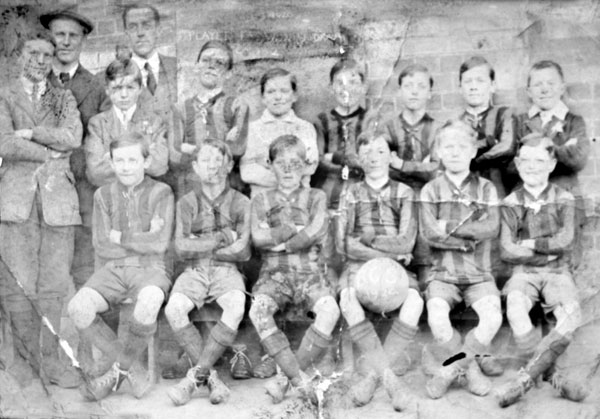 Football Team, 1919-1920. Men at back, left to right: Harold Cave, Mr Amos Back row, left to right: Albert Agg, Bill Sears, Charles Stweart, George Sutton, ?, ?, Bill Bennett, ? Front row, left to right: Fred Savage, Tommy Nightingale, Wally Malin, George Knight, Alan Grove, Bill Harwood. (Another version of this picture.)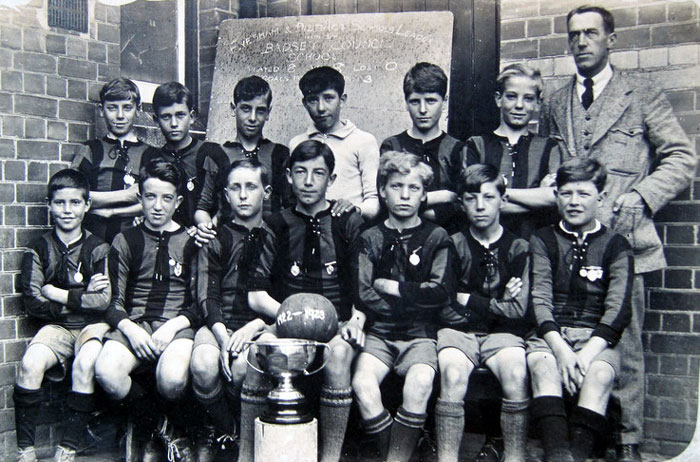 Football team 1922-1923.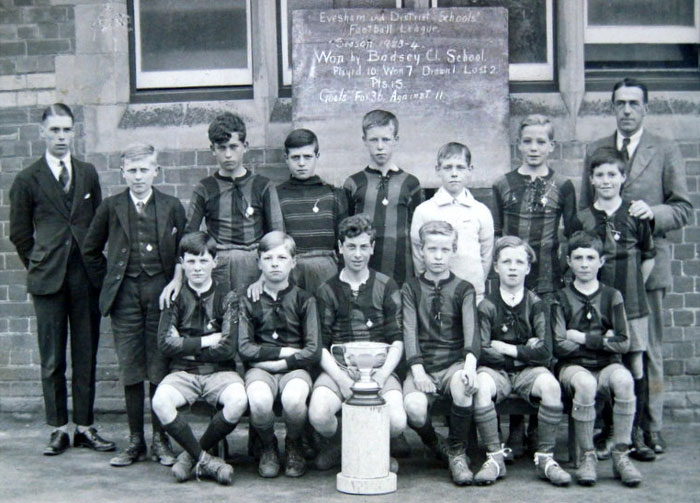 Football team 1923 - 1924.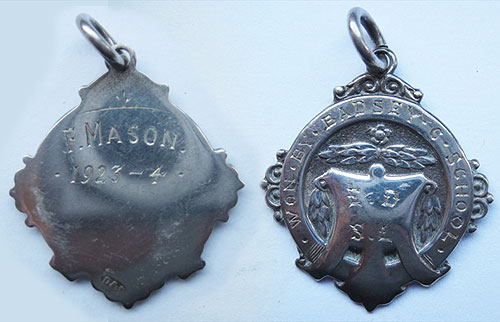 Football success. "In January 1920, Mr Amos began a Football Club, with the full support of the Managers. It was felt that a start should be made in this direction, even though organised games were not recognised by HMI as officially part of the school curriculum until several years later. By February 1920, they were ready to start competing against other schools, the first match being against Bretforton. ... The Badsey boys quickly proved themselves and in April 1921 were the first winners of the Evesham & District Schools' League, winning by a margin of 13 points." - Maureen Spinks in Heads and Tales.
The three group football pictures were kindly lent to us by Val Harman. Her father, Fred Mason, appears in the 1922 - 1923 and 1923 - 1924 team pictures. He received medals for being in the winning teams in both of those years. The illustration shows both sides of his 1923 - 1924 medal.

Class photo, Standard I (1924). This is the first of several class photographs which were taken in 1924. This picture was loaned by Mrs Pat Westmacott (née Dore) of Seward Road, Badsey. Most of these children left the Infant Department of Badsey School to move to the Mixed Department, starting April 1924; presumably this photograph was taken soon after they started in their new class
Top row, left to right: James Pitman, Hubert Crane, Edwin Grove, Thomas Bennett, Thomas Major, Reginald Chamberlain, John Walker
Middle Row, left to right: Benjamin Green, Basil Hall, Ronald Hicks, Frederick Robbins, George Halford, Arthur Griffen, Arthur Dore*, Harry Welch
Front row, left to right: Irene Sandford, Mary Marshall, Hilda Reeves, Gwendoline Moisey, Sybil Manners, Kathleen Hall, Joan Chamberlain, Joan Enstone, Dorothy Keen, Joan Cockerton, Margaret Bott, Beryl Hall
* Uncle of Pat Westmacott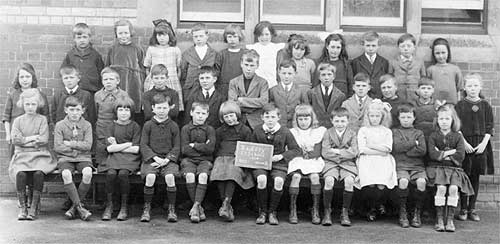 Class photo, Group 3 (1924). This group is believed to include Betty Woodward, Clifford Hall, Margaret Mustoe and Nellie Salter.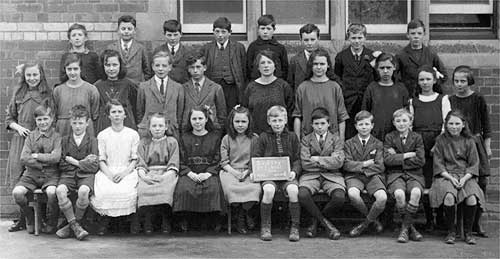 Class photo, Standard VI (1924). This photograph was loaned to us by Fred Mason of Wickhamford; see his reminiscences.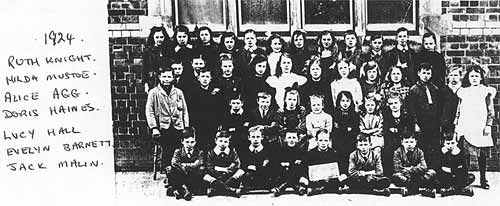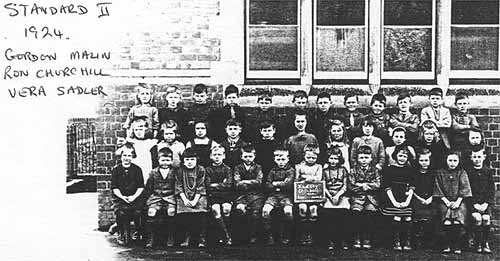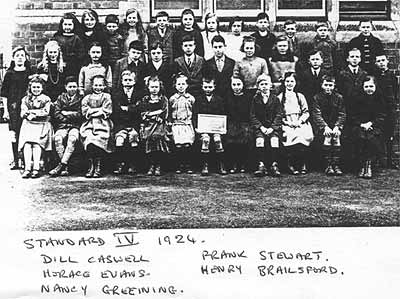 Other Photographs taken in 1924. The photographs above were also taken in 1924. The originals were not available - only photocopies stuck on card where someone has written down a few of the names. If anyone has original photographs for the other classes, in order to provide a better copy, we should be grateful if we could borrow them.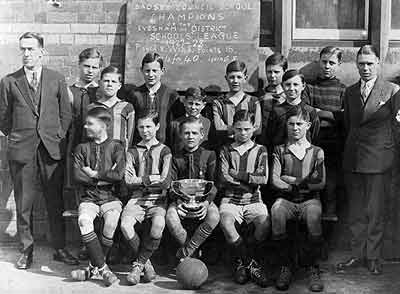 Football Team, 1927-1928. Mrs Emmeline Hughes of "The Poplars", Badsey, has this copy of Badsey Council School's Football Team, 1928. Her uncle, Clifford Hall, is seated on the right. Mr Frank Amos, Headmaster, is standing on the left. Can anyone identify any other members of the team?
'Badsey Council School - Champions of the Evesham District Schools League 1927 - 28.
Played 8, won 8, points 16, goals for 40, against 8.'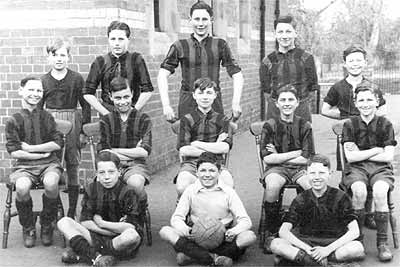 School football team about 1937. Playing in red and black shirts.
Left to right, back row: Norman Jelfs, Leslie Hartwell, Eric Gunston, Trevor Jones, Gilbert Summers;
middle row: Leslie Malins, George James, Ken Knight, Willie Walters, Howard Southern;
front row: Lawrence Knight, Joe Plant, Lionel Knight.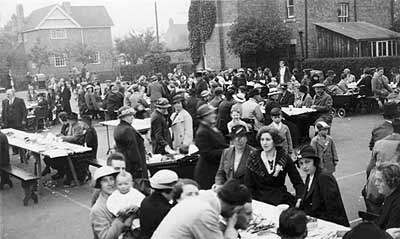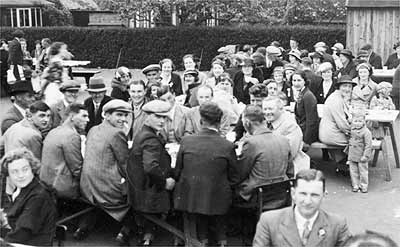 King George VI Coronation Party, 1937. These photographs were loaned by Mrs Pat Westmacott (née Dore) of Seward Road, Badsey.
Above: General picture taken in the Girls' Playground (now used for the younger children) at Badsey School.
Note the old police house on the left and the old school house on the right.
Below: Close-up of one of the tables at the party
Left, going clockwise: Walter Dore*, Kenner Brailsford, Fred Cleaver, Ron Knight, George Hall, Phil Sparrow, Syd Sheward, Frank Jelfs, Harry Welch, Albert Crane, Arthur Hall, Charles Stewart, Arthur Stewart, Ralph Tutton
* Uncle of Pat Westmacott.
---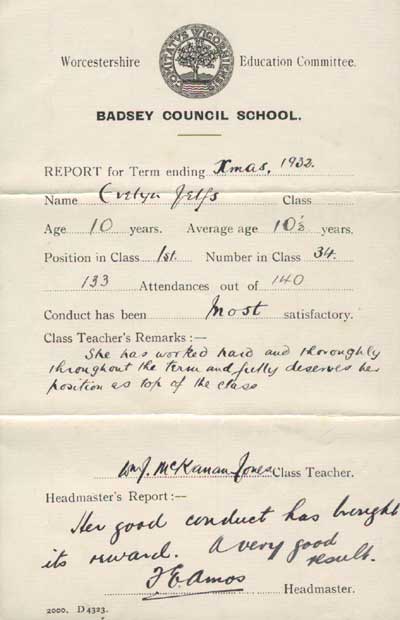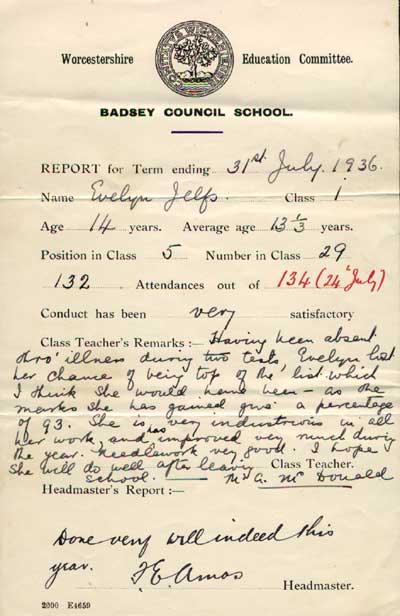 These two school reports have been lent to us by Evelyn Masters (née Jelfs) of Badsey, who attended Badsey Council School from 1927 to 1936. The class teacher in the 1932 report was Mr Bill McKanan-Jones, who later went to teach at Blackminster School when it opened in 1939. The class teacher in the 1936 report was Miss Maggie McDonald, sister-in-law of Frank Amos, the Headmaster.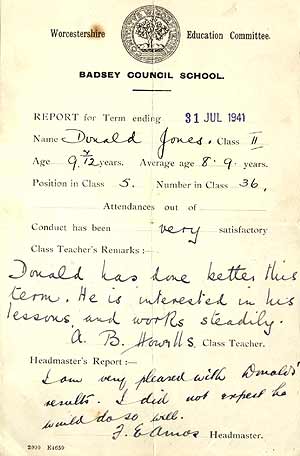 School Report 1941. During the Second World War some children were evacuated from the city to the relative safety of the Badsey countryside. This school report is for one evacuee child from Birmingham, Donald Jones. It was sent to us in 2002 by his son-in law Steve Hiatt. For the full story see An Evacuee's Tale.
---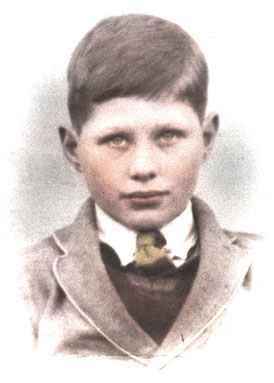 George Oliver Bell (1922-1991) lived at 6 Blake's Hill, North Littleton. From the age of ten, he attended Badsey Council School, where he was greatly influenced by the Headteacher, Frank Amos, who gave him this postcard of a fishing trip in 1928. Long after his schooldays were over, George spoke fondly of Mr Amos and would visit him on return visits to the Vale.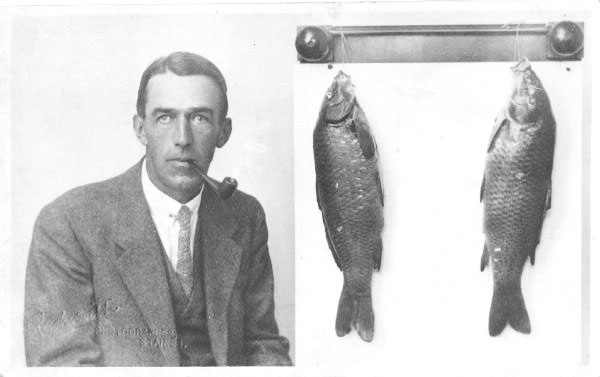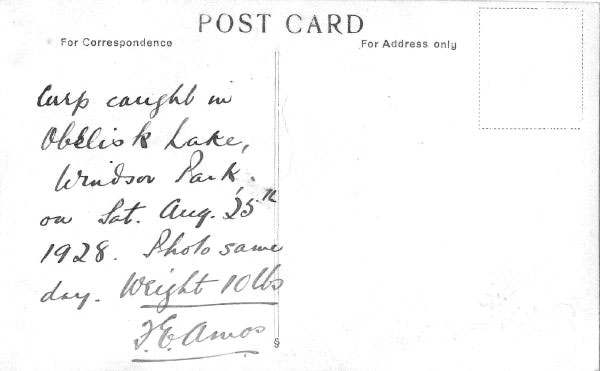 ---
More pictures appear in Heads and Tales: A History of Badsey Schools.

Compiled by Maureen Spinks.
---