Memories and photographs:
---

The McDonald years (1894 - 1913)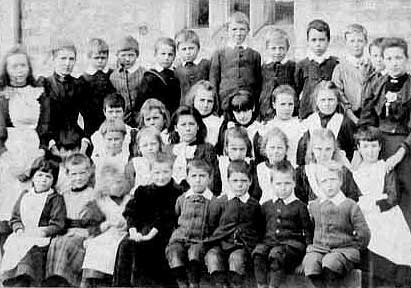 This early photo was kindly sent to us by Allan Warmington.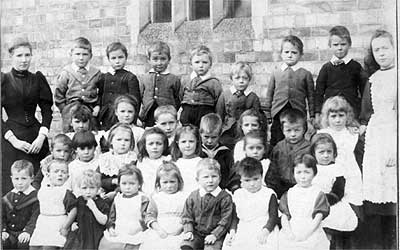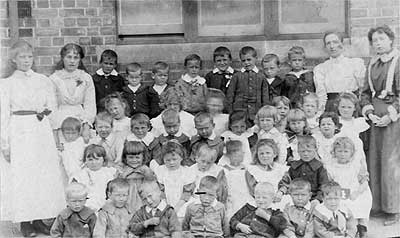 'Badsey Group IV'. Pat Goldstraw has put names to some of the faces.
Miss MacDonald is standing on the left and Mr MacDonald on the right.
Back row: - - - - -, Evans, George Marshall, - -
Third Row: Lena Crisp, Cecilia Barnard, Dolly Cull, -, Neville Marshall, - - -
Second Row: -, Harry Crisp, Nellie Agg, Hilda Brewer, -, George Brewer, Rose Brewer, -, Ethel Barnard, - -
Front Row: -, Fred Barnard, -, -, Edgar Cull, George Crisp, Steve Brewer, -.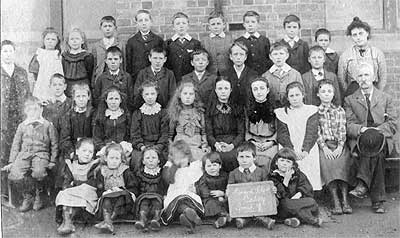 'Board School Badsey Group 7'.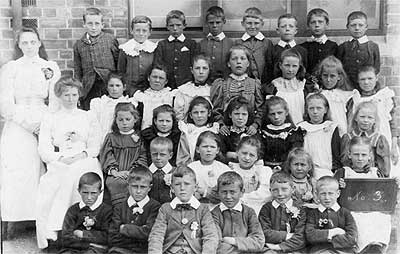 'No.3'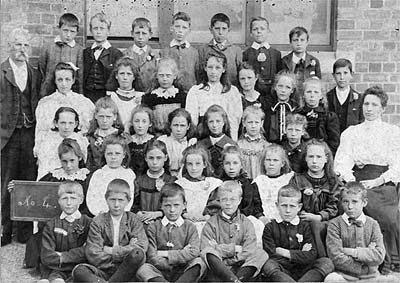 'No 4' Lent by Fred Mason.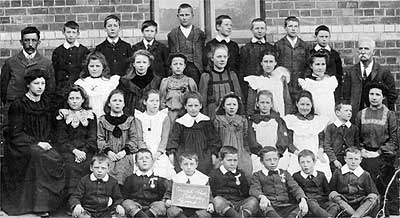 'Badsey School Group 1'. Pat Goldstraw has put names to some of the faces.
Mr MacDonald and Miss MacDonald are on the right of the picture.
Back row: - - -, George Marshall, - - - -
Third Row: Neville Marshall, Cecilia Barnard, - - -, Keen
Second Row: Hilda Brewer, Ethel Barnard, Nellie Agg, Rose Brewer, Lena Crisp, - - -
Front Row: Fred Barnard, -, George Brewer, William Keen, Steve Brewer, -, Harry Crisp.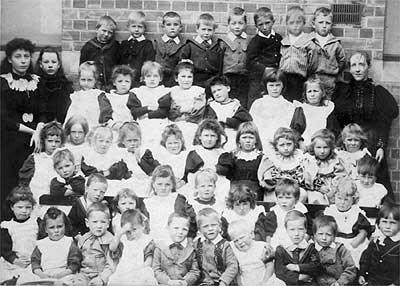 Unidentified group.This photograph is typical of this period and came mounted on card with an orange border decoration with arrows and crosses.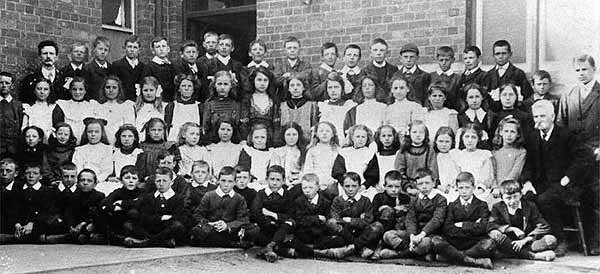 Class photo, late 1890s. A group of older children with Mr McDonald seated right. Loaned by Sue Daniels.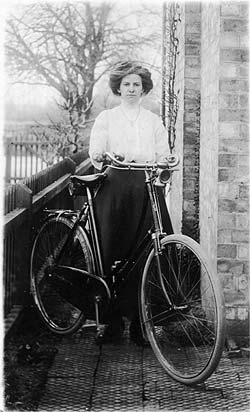 Miss Maud Byrd, with bike (note carbide lamp) (c 1906). Miss Byrd taught at Badsey School for many years. She was renowned for hitting pupils with the side of a ruler and threw chalk. She later married Bill Woodward, but came to an untimely end, being run over in Bengeworth. Peter Stewart lent us this photograph.

Fanny Bennett photographed in her garden at 4 Cotswold View (now Willersey Road). When the new school buildings opened in 1895 the staff consisted of J. H. McDonald (headmaster), Miss M.A. McDonald, Miss Crisp and Mrs. Mason, assisted by two monitresses, Martha Mustoe and Fanny Bennett. Fanny had been a pupil at the school and would have been aged about 16 in 1895. Ivor Martin kindly lent us this photograph.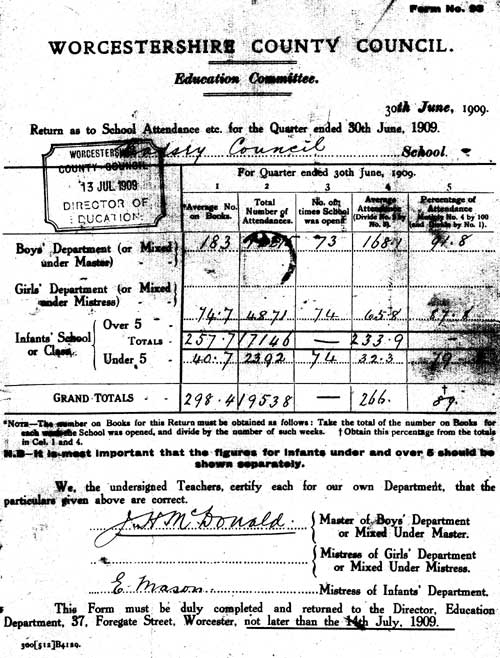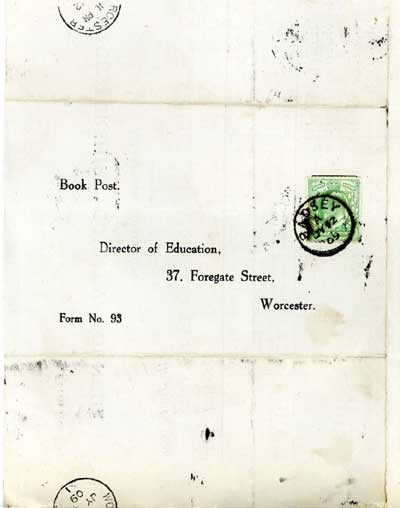 Attendance return. Every quarter, Head Teachers had to make returns to the local Education Committee concerning the number of attendances. This form shows the returns for Badsey Council School for the quarter ended 30th June 1909. The overall attendance record was 89%. The form was completed and signed by John Henry McDonald, Head of the Mixed Department, and Elizabeth Mason, Head of the Infant Department. The form had to be returned by 14th July 1909. The postmark reveals that it was sent on 12th July.
We are grateful to Paul Horton of Stourbridge for loaning us this item. Paulís interest is in philately, which is how he came to acquire the document, but as a regular visitor to Badsey (he is the father of Wendy Gwynn of Mill Lane), he brought it along to show us at the Societyís stand at the 2009 Flower Show.
Scholarship examination papers for 1910.
School admission records for 1890 - 1899, 1900 - 1909.
Compiled by Maureen Spinks.
---