---
Memories and photographs:
The Harvey years (1945 - 1967)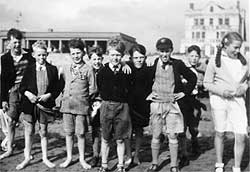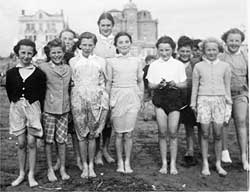 School Outing to Cheddar Caves and Cardiff, 1954. For two years, these three photographs have been on the website, the people, location and date unknown. But at last an answer has been provided. The occasion was the Annual School Trip in 1954, which that year went to Cheddar Caves and Cardiff. The entry in the School Log Book for the period states:
14 Jul 1954 – School was closed for today. 71 scholars and 7 teachers together with Mr Binyon (Chairman of Managers) are making school journey today to Cheddar Gorge and Caves and boat trip from Weston to Cardiff and Penarth.
The photograph brings back memories for David Ellison, who recognised himself on the photo:
"It's amazing how the memory is suddenly triggered by the odd word or phrase. As soon as I read the word 'Cardiff', visions of that boat trip sprang immediately to mind. It was a windy day and there was some doubt as to whether the boat trip would actually take place. It did, however, and the Channel was particularly rough. The boat rose and fell as it rode the waves and many of the children were physically sea sick - fortunately it didn't affect me and I really enjoyed the experience whilst getting thoroughly drenched! I was 10 at the time in Mrs Peat's class and so it would have been the top two classes as Patsy Stewart was in the top class at the time - the teacher being Mr Hunt. We usually travelled with Broadway Coaches - one of those old Bedfords - although it wasn't old at the time. In those days the journey to Weston would take about 4 to 5 hours via Gloucester, Filton and Avonmouth. That smell of the sea as we stepped off the coach was magical and is something that has remained with me ever since. We also went to Porthcawl and Barry Island but those may have been with Badsey Chapel."
These are the ONLY photographs we have of Badsey School in the 1950s. If you have any photographs or memories of your time at Badsey School during this period, please get in contact - email: History@Badsey.net
.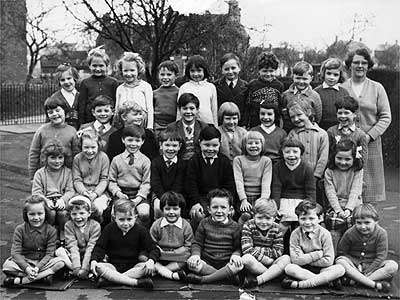 Miss Smith's Class, 1962.
Back row: Linda Turley, Susan Knight, Susan Brazier, Ian Hardwick, -, Robert Lake, Alan Padfield, Philip Gresty, Shirley Stewart, Miss Smith.
Second row: Karen Woodcock, Martin Osborne, Stephen Jones, Lyndon Bowley, Rosemarie Ellison, Jane Parriss, Celia Nicholls, John Merriman.
Third row: Rachel Jones, - Steve Lippett, -, Steve Webb, Jackie Begley, Jane Goldstraw, -.
Front row: Patty Sutton, Denise Hewlett, David Wheatley, Kim Strangwood, Andrew West, John Dallimore, David Turner, Shirley Camden.
Photograph loaned by Pat Goldstraw.
Mrs. Karen Evans (née Woodcock) wrote to us about this 1962 photograph. She now lives in Cheltenham -
Dear Badsey Website people

I came across your website by chance several months ago whilst surfing for articles on bellringing but an item about asparagus growing on a BBC television and a subsequent discussion with my mother prompted me to take a closer look. Browsing through the Badsey school section I came across my class photo – imagine my surprise, even horror, at realising I am already part of an historical archive! My children were highly amused because they are already of the opinion that at the age of 47 I am a relic from the Stone Age.

I went to Badsey School for the whole seven years of my primary school life, from September 1961 to July 1968. I lived in Evesham but with my mother working for her parents (the late Charles and Elsie Tomkins) on the ground along Bretforton Road it was more convenient to have me in Badsey school. I went on to Prince Henry's Grammar School but after a year I moved to Cheltenham where I went to Pate's Grammar School for Girls. I have been married for 25 years. I worked at Smiths Industries in Bishops Cleeve for seven years but I gave up work eighteen years ago when our first child was born. I have two daughters and a son. Since the death of my grandmother nearly four years ago I have had no real contact with anyone in Badsey. I have spent hours on your website looking for names I recognise from my schooldays. My family has no real history in Badsey – my grandparents came from Bretforton and moved to Badsey in the 1930s.

I don't remember any major events from my school days although I have little glimpses of life in the classrooms and I was happy there. One thing that struck me while looking at your photos was that some of the teachers must have been quite young then, but they all seemed so old to us! (Sorry!)

I think our first teacher was Mrs. Churchill (or Churchley) who lived just around the corner from the school, opposite the bus stop. (If her name was Churchill was she the mother of the head cook?) We made pancakes on Shrove Tuesday and were each served up with one slice of a rolled up pancake – I remember feeling cheated because I thought we were each going to get a whole pancake!

One of our teachers was Mrs. Goring who, if I remember correctly, lived in a house surrounded by an orchard where the Badsey Road joins the Evesham by-pass.

The only other teacher I remember is Mr. Magowan (sorry if the spelling is wrong) who we had in the top class. I only discovered he was the father of the famous Alistair Magowan when I read it on your website, just weeks before I heard of his death. Mr. Magowan smoked a pipe and once he asked me to go to the shop to buy him some tobacco and he let me buy a few sweets with the change. How times have changed! Towards the end of our last year we were given optional homework to prepare us for life at secondary school.

The school caretaker came in to our classroom one day and asked us to guess the name of the new cruise ship that had just been launched. It was the QE2.

Mr. Harvey, the headmaster, frightened the living daylights out of me one day. I was in the cloakroom which was separated from the corridor by what was to me a tall wooden partition (painted dark red by the way). I heard Mr. Harvey's voice boom and looked round to see him apparently looking over the partition and telling me off. I didn't think I was doing anything wrong and I was just about to whimper some sort of answer when I heard another child's voice on the other side of the partition and I breathed a sigh of relief. I'd love to see inside the school again; I wonder how much of it is still recognisable - everything seemed so big to us children.

Another story from the cloakroom: that's where the school nurse was stationed when doing the health checks. We all lined up and when we got to her we had to hold out our hands for her to see them, then turn them over, palms up, then she looked at our teeth and then inspected our hair, presumably looking for nits.

The school dentist had a mobile clinic in a cream coloured caravan which would be parked in the infants' playground. It filled me with dread and once I risked being told off for not returning the treatment consent form so that I could take it home again and persuade my mum to fill in the other reply slip, refusing treatment! Do you remember those forms with the red and black tear-off strips along the bottom?

The Badsey Flower show included categories for work entered by the school and I won a prize for my handwriting. Girls also made little checked aprons decorated with simple cross-stitch which were entered in the Flower Show. Good knitters were allowed to read in knitting lessons (my eyes were always on my needles) but somebody was told off for reading while sewing. I don't know what the boys did while we were doing these girly things.

I won a prize at school but I don't remember what for; we chose our prizes and I chose a big picture book of birds (I don't know why because I wasn't particularly interested in birds; perhaps it was the book with the fewest words in it – I wasn't a keen reader either!) We had a proper prize-giving ceremony with parents in attendance. At some sort of event (probably a prize-giving) I remember singing, as part of a choir rather than the whole school, a song about Spring, the sort of song you never hear again yet I can still sing it today.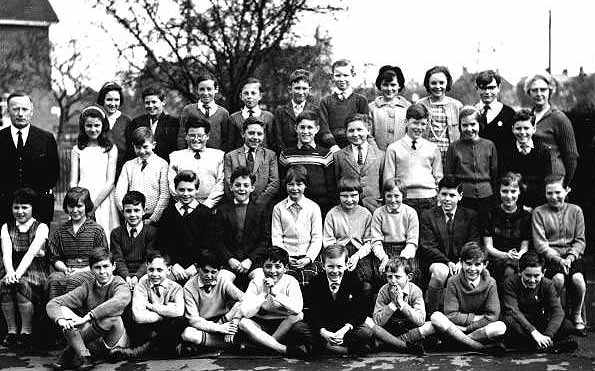 Badsey School 1963. Photograph loaned by John Hall.
Back row l to r: Maurice Harvey (headmaster), Heather Davis, Brian Knight, John Pippcin, John Meadows, Christopher Jordan, Alan Clements, Hazel Whiting, Gillian Redgewell, Richard Austin, Julie Williams (class teacher);
Second row L to R: Anita Bowley, Melvyn Hall, David Webb, Paul Halford, John Hewlett, Godfrey Nicholls, Stewart Hilland, Barbara Lord, Martin Bent;
First Row L to R: Isobel Gresty, Gillian Sutton, Roger Hartwell, Nigel Beasley, Ronald Knight, Julie Brown, Rosalind Grinnell, Jane Begley, David Smith, Mary Braby, Carol Marshall;
Front Row L to R: William Giffiths, Anthony Bennett, Stephen Hemming, Clifford Davies, Chritopher Cox, Philip Sutton, John Hall, William Daffurn.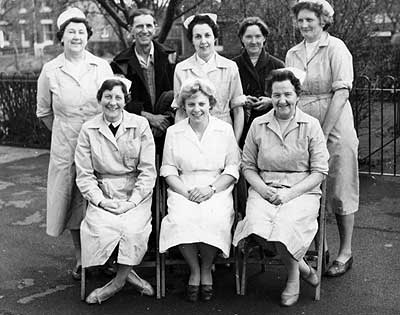 Badsey School kitchen staff and caretaker 1964.
Back row left to right: Ve.Martin, Roy Hall (caretaker), Mrs Hartwell, Mrs Clovelly, Mrs Enstone;
Front row left to right: Mrs Byrd, Grace Churchill (cook in charge), Mrs Hemming.
Photo loaned by Ivor Martin.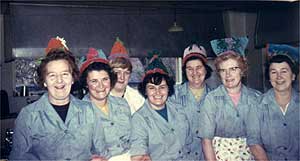 Badsey School kitchen staff. Christmas 1966. A party for the children.
Left to right top: M.Hemming, N.Smith, J.Watkins, M.Vann; Left to right bottom: D.Joliffe, J.Taylor, G.V.M.Martin.
Photo loaned by Ivor Martin.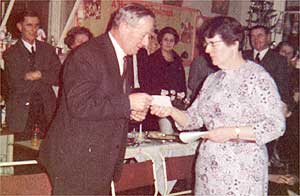 Retirement of Maurice Harvey (1967). Miss Norah Smith, Deputy Head, presenting a cheque to Mr Maurice Harvey (Headmaster) on his retirement (he bought a greenhouse). The Governors (or Managers, as they were called then) in the background include Frank Goldstraw.Mrs Jean James lent us this photograph.
Lots more photographs and memories needed. Please contact us!
Compiled by Maureen Spinks.
---